Software internationalization (I18N) means designing and developing software so that localization (L10N) work, which involves responsiveness to different regions including the culture, language, and customs of multiple countries and regions, is reduced to the bare minimum possible and common universal aspects are increased to the extent possible.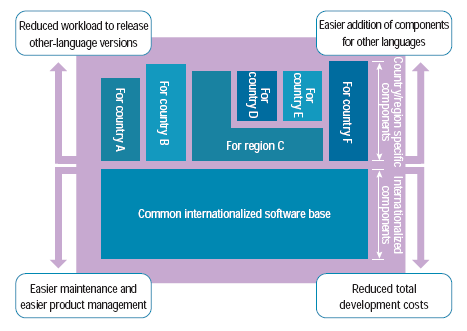 Advantages of software internationalization include:
Ease of responsiveness to a new language environment
Relieved burden of releasing language-specific versions
Ease of maintenance
Ease of product management
Reduced total development cost
Leading multinational software developers fully understand these advantages and consider internationalization of software products to be indispensable for global business strategy.
It is definite that the software market will continue to expand for years to come. At the same time, competition is getting more and more intensified. Chinese and Indian companies, which have enhanced their technical capabilities through offshore development experience, will choose to compete in global markets rather than in their domestic markets.
No passport nor embarkation procedure is needed to access the Internet. Everybody can immediately obtain information transmitted from all over the world regardless of location. A new era has already began to unfold in which it is difficult for companies or products to survive in a competitive market without "internationalization".