Software Internationalization Support

At Kokusaika JP, we specialize in software internationalization, and so our technicians have extensive experience in the development and management of a real-world global software. We can offer expert internationalization advice and support in all aspects of software development - from product planning and design right through testing and post-release maintenance.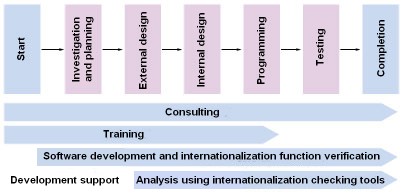 Software Internationalization Support Overview
>> Software internationalization consulting
We provide internationalization technology consultancy services at every step of the product development project.
Surveys to analyze the current situation
Evaluation in advance of internationalization functions for overseas products
Drawing up of internationalization proposals
Support for business plan development
Advice on internationalization technologies
Advice on product development and maintenance systems
>> Software internationalization training
We provide training on every aspect of internationalization from basic concepts to internationalization technologies.
Internationalization seminars for management (Japanese or English)
Internationalization technology training for engineers (Japanese or English)
Overview of software internationalization
Internationalization development processes
Fundamentals of internationalization technology
(character codes, locales, standard functions, etc.)
Internationalization programming
The latest trends in internationalization technology
(Unicode, internationalization and Open Source, etc.)
>> Software internationalization development support services
We will help you with the development operations for software product internationalization.
Support in drawing up a development plan and the internationalization function specifications
Project management for internationalization function development
Internationalization function software development
Internationalization function operation verification
Source code analysis using internationalization checking tools
>> Multilingual website construction services
We will totally contract your multilingual website construction.
Website design, marketing, direction.
Effective website construction with internationalized CMS.
Maintenance service including translation, adding languages, and others.
Conversion of the current websites into CMS.
EC site construction supporting multi-language and multi-currency.
Products and Services For
Software Internationalization
>>
About
Kokusaika JP's Products for software internationalization, localization, multilingualization, and others
,



please refer to Product.


>>
About
Kokusaika JP's Services for software internationalization,
localization,
multilingualization, and others
,



please refer to Service
.